"This is totally unexpected and out of the blue," said University of Melbourne historian, Professor Andrew May.
"Look around, we're in a modern 21st century metropolis here, so to actually still be finding these sorts of blocks that can tell us things about the history of Melbourne – early settlement, the landscape – that we didn't know before is extraordinary."
Visitors to the site can see the remnants of two bluestone pre-gold rush era cottages built in the 1840s, complete with cesspits and backyards where cows and chickens were raised and vegetables were grown.
Both cottages have two almost perfectly preserved red brick fireplaces. Beyond the homes, thousands of artefacts have been found including belt buckles, bottles, cosmetics, pipes, toys, dishes and animal bones.
Wurundjeri Woi Wurrung traditional owners have also been involved in identifying a small number of Indigenous cultural remnants as stone silcrete flakes.
Loading
After the original cottages were demolished and filled in at the order of the council, tenement blocks sprang up on the site in the 1850s and became home to some of the city's poorest residents, as well as artisans such as a Chinese cabinetmaker, whose possessions have also been unearthed.
By 1913, most of the buildings except one on the site were demolished after being condemned as 'slums'. They were eventually replaced by warehouses and workshops, which remained until a few years ago when the demolition for the new Bennetts Lane office building began.
"Probably it was migrant populations that may have come in during the gold rush, and then found themselves in other occupations within the growing city of Melbourne as the rush calmed down," said Ian Travers, the chief of Extent Heritage, which undertook the excavation on behalf of the developers.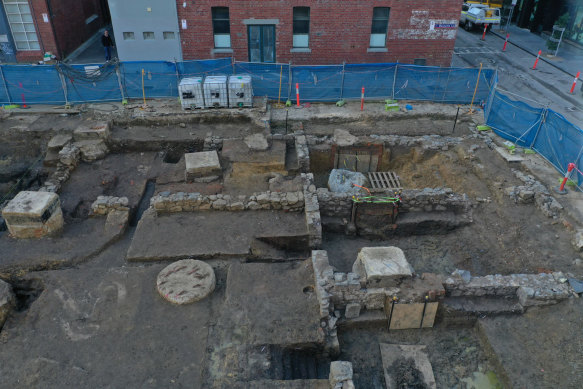 "The socio-economic state of this part of the city [is] probably one of the reasons that we've got such good preservation of archaeology because there wasn't much development pressure."
The public only has about another month to walk past and see the site while the excavation is being completed, before all artefacts are ripped up and put in storage to make way for the several basements of the new office tower.
Some of the bluestone and timber found will be showcased on the ground floor of the new building, but the rest will be stored with Heritage Victoria, which has floated the possibility of recreating a cottage elsewhere.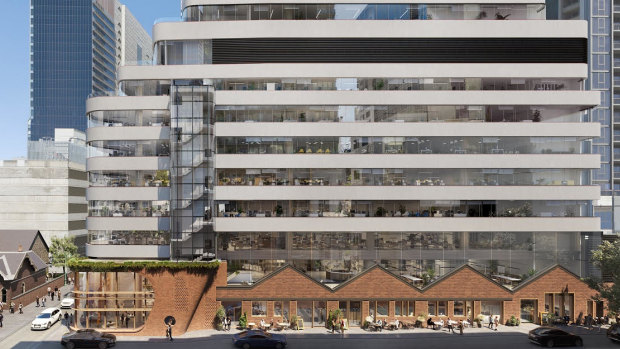 Heritage Victoria principal archeologist, Jeremy Smith, said the discoveries came too late to put a heritage protection to save the site as a dig — or require it to be preserved under glass in the foyer of the new building. But he said he hoped other "buried blocks" in the future could be physically preserved in some way.
"It's challenging but it's not impossible," he said.
Free public tours of the site and a pop-up artefact display will be open to the public on August 6 and 13. Bookings can be made here.